| Svenska | Arlanda Flygsamlingars Friends |
| --- | --- |
The association was founded October 1, 2001 with the name change April 12, 2008 to Arlanda Flygsamlingars Friends and currently has about 300 members. We maintain and renovate the collections through voluntary work.
Contact us
Visiting address: Kabinvägen 7, Stockholm-Arlanda
See the map
Mailing address: Arlanda Flygsamlingars Vänner,
c/o Swedavia. 190 45. STOCKHOLM- ARLANDA
Phone: +46(0)859360033
E-mail: arlandasamling@telia.com
Homepage: www.arlandaflygsamlingar.se
Foreign visitors are advised to check the opening hours before making travelling arrangements by Calling either +46(0)704827128 or +46(0)768226920.
Reservations
Group visits, conferences and tours booked through
Jan Forsgren, mobile phone +46 (0)768 226920
Membership
Membership at least 150 SEK for 2018. Enter PlusGiro 35 26 80-3 in the IBAN format and our BIC (SWIFT address) on your invoice.
Please enter the name, address, phone number and E-mail address on your invoice.
Board 2018
Chairman: Jan Forsgren
Treasurer: Bertil Boberg
Secretary: Ulrich Hild
Members: Per Sviberg
Georg Kramer
Kalle Rydling
Accountant: Bengt Gerby
Accountant Deputy: Bengt Bengtsson
Election committee: Bo Ekström, convener.
Kurt Carlsson
ORIENTATION MAP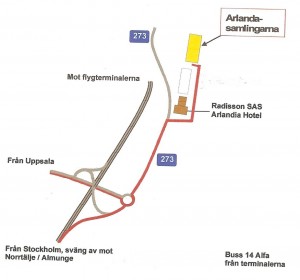 From the airport terminal – Take bus "Alfa 'to' Radisson Blu Arlandia Hotel" and from there walk along Kabinvägen to "Flygsamlingarna" about 200 m.