In ENGLISH please scroll down.
Vindtunnel för prov över ljudhastighet.
 Använd vid Kungliga Tekniska Högskolans Institution. För undervisning, grundforskning och målinriktad forskning.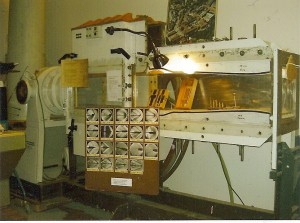 Testzoon med utställda testobjekt
Foto StureN
Byggd cirka    1947.
Driftsatt          1948.
Sista körningen vid KTH 1995.
Hastighetsområde Macktal 1,2 till 1,8.
Mätsträckans höjd:    0,34 m.
          "           bredd:  0,33 m.
Drivning: Komprimerad högtrycksluft genom ejektor.
Provtid:   Cirka 20 sek.
Antal prov: 15389.
  De standardförsök som gjordes i vindtunneln är:
Mätning av luftkrafter och moment: Motstånd, Lyftkraft, Sidkraft, Tippmoment, Girmoment, Rollmoment.
Tryckmätningar:                                                                                                          
Mätning av lokala lufttrycket på olika ställen på modellernas ytor.
 Visualisering:
Åskådliggörande av luftströmningar vid

 

modellernas ytor.
 Färgemulsion:
Utspädd färg läggs på modellernas yta och får torka under försökets genomförande

.
======================================================
Wind tunnel, high speed
Wind-tunnel tests at supersonic speed.
Use at the Royal Institute of Technology Department (KTH) For teaching, basic research and targeted research
Built around the 1947th
Deploy 1948th
The last execution at KTH 1995th
Speed range Mach 1.2 to 1.8.
Measuring distance Height: 0.34 m.
Width: 0.33 m.
Drive: Compressed high pressure air through the ejector.
Test time: Approximately 20 sec.
Number of samples: 15389th
The standard tests were made in the wind tunnel are:
Measurement of air forces and moments: Resistance, High lift, side forces, overturning moment, Turnmoment, Roll Moment.
Pressure Measurements:
Measurement of local air pressure at various points on the models' surfaces.
Visualization:
Visualization of air currents in the models' surfaces.
Color Emulsion:
Diluted paint is put on the models' surface and allowed to dry during the conduct.